Visual Artists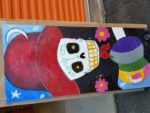 Ernesto was born in Nayarit, Mexico in 1985.  Having grown up in the south and seeing the lack of diversity of the Latino community, he started painting to remember the stories. Throughout life, Ernesto has always been fascinated by cultures and how the world is represented through the eyes of others.  The interest was cultivated during his pre-teen years by his art teacher, Chris Baschon, in middle school and the love for art still continues.  He uses the world around him and political landscapes to shape the emotions into an art image.  His love for bright colors can always be seen in his paintings.  Ernesto works and lives in Myrtle Beach, SC, where he is an artist and activist.
https://artworkbyernesto.webs.com/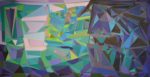 As an independent artist, Peter has forged a professional path shaped by curating and producing independent exhibitions, expositions in public spaces, nonprofit programming, cultural arts, and programs on abstraction.  He is also an active advocate for the arts, and supports 501c3 organizations by serving on boards, volunteering, fundraising and donating.
http://artspacenc.org/portfolio-items/peter-marin/