El Pueblo is
proud to present

:

¡

Y Sigue La Fiesta!

Due to inclement weather, the ¡Y Sigue La Fiesta!: Drive-Thru scheduled for Sunday, October 11th is CANCELLED. Our commitment is that Fiesta be a safe opportunity for us to celebrate our heritage and culture. 

You can still celebrate safely by watching one of our previous FB Live events: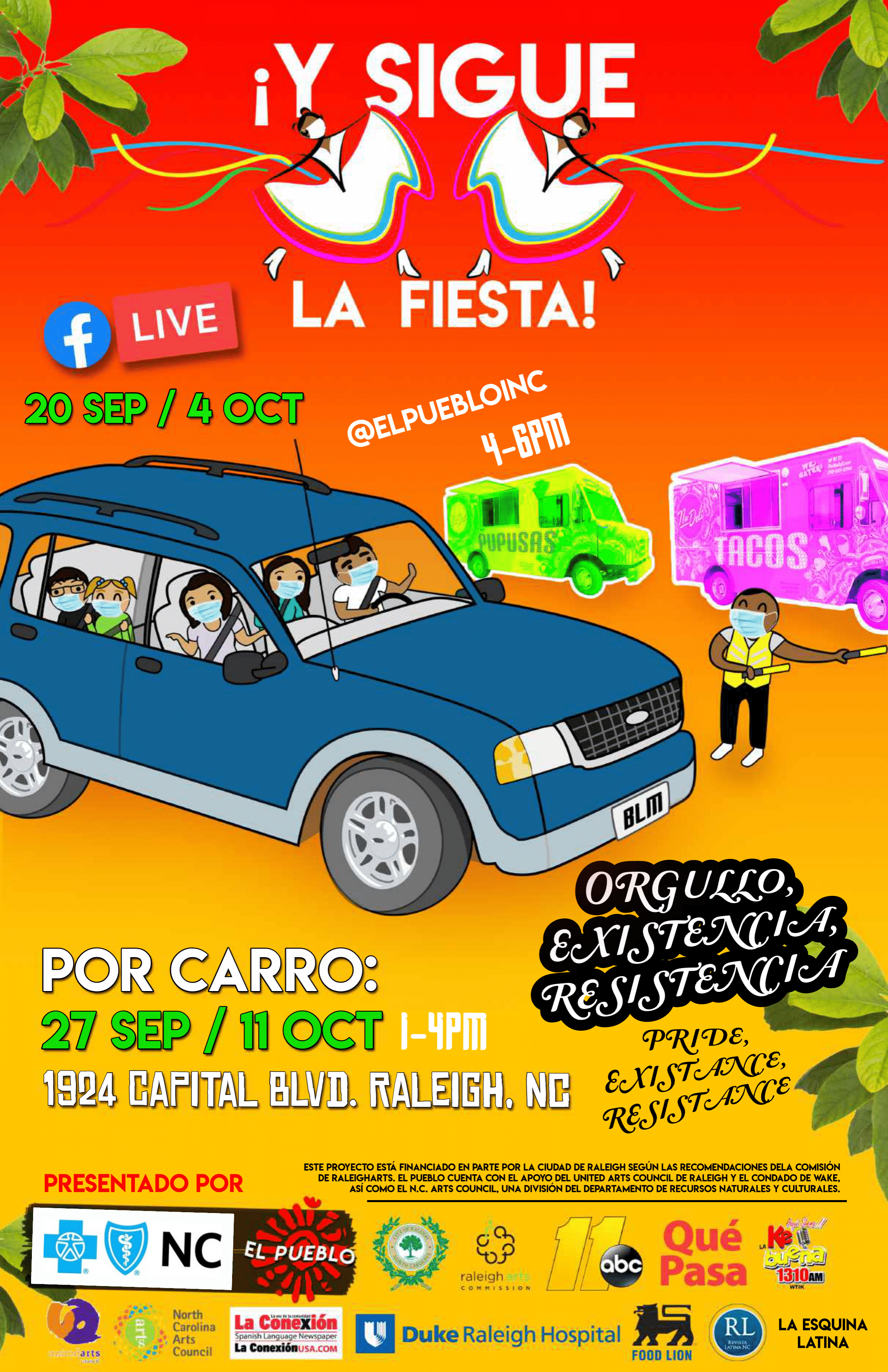 Flyer and all ¡Y Sigue La Fiesta! logos and graphics designed by Jorge Ramos/@anthromex
FB LIVe hosts
Each FB Live event (Sept. 20th and Oct. 4th 4PM-6PM) we will be joined by lively hosts presenting our musical and dance troupes, giving informational details about upcoming events, and making the show an all around welcoming and entertaining experience for all. One host will be speaking in Spanish while the other will be interpreting in English.
FB LIVE September 20th:
Naomi Dix from House of Cox (IG: @naomidix_h.o.c.)
Gloria Rodriguez from ABC 11
FB LIVE October 4th:
La Pakis
Ana Rivera from ABC 11
Musical groups
Franco Gallardo y sus Mariachis
Franco Gallardo "The Horseman of México" is a native of Veracruz, Mexico. With 15 years as an artist in the genre of the traditional music of Mexico (Ranchero), he presents various hits from different famous artist such as: Vicente Fernandez, Joan Sebastian, Javier Solis and many more. He is the Horseman of Mexico, Franco Gallardo, and gives it his all! 
While the members of the newly-established Latin Swing are all based in the Triangle, their various backgrounds and nationalities add to the diversity of their sound. They play a variety of genres, including salsa, merengue and cumbia, and have been influenced by artists such as Marc Anthony, Juan Luis Guerra, Olga Tañón, Gilberto Santa Rosa, and many others.  
Los Guanajuatenses, like the name indicates, originates from Guanajuato, Mexico. This group was formed by 13 musicians from a town called San Pedro Tenango in 1999. Their music can be heard in different Latin American radio stations in North Carolina. With their authentic Mexican style, they make everyone dance, young and old.  
The Marcel Portilla Band plays a fusion of new Latin, tropical, pop, rock, blues, and reggae in a way you have never heard before. Blending classic dance and club covers from hit artists, the band also performs originals including "Amor Electrónico" and "Amarte a Ti". The Marcel Portilla Band serves up a must-see show that will be sure to warm the hearts of the audience.  
Revolución Caliente, is a family group created by Marcos Napa, former member of the famous group Peru Negro (Peru), a group that spreads traditional Afro-Peruvian music and dances, with traditional percussion instruments such as the Cajon, the Quijada and the Cajita. 
Ricardo Diquez & The Tropic Orchestra 
Born in Caracas, Venezuela, Ricardo was raised as a young child in the Los Teques area of Venezuela and later in Humacao, Puerto Rico. His parents' love of music and dance influenced him, hearing soca and calypso from his Trinidadian father's side, bomba and plena from his mother's Puerto Rican side, and collectively salsa and merengue from both parents. Ricardo has been singing all of his life and has entertained crowds and dancers in the local area and in other states and countries for over 20 years.  
Dance troupes
Ballet Folklórico Mexican Tradition 
Formed in 2013 under the direction of Julio Ruiz, the group is made up of community members who work to keep Mexican culture alive by displaying some of the nation's cultural diversity through various dances. It is one of the most recognized traditional ballets in North Carolina, welcoming people of all nationalities and backgrounds who want to learn a different culture and enjoy the performance.  
In 2010, Orgullo y Alma Latina was formed in Zebulon by Mirtha Edwards and a dedicated group of Hispanic parents to give them a sense of community and cultural pride, as well as to share their heritage with others. With authentic outfits, the group proudly represents the state of Sinaloa, located on the Gulf of California across the waters from Mexico's Baja Peninsula. They will be performing an array of dances from this region, showing how Sinaloans have transformed celebration into an art form. 
The word Takiri means: "He who creates music and dance" in Quechua. Takiri Folclor Latino was created in 2008 with the main goal of showing the Colombian culture through dance and other arts in North Carolina. Styles of dance performed will include cumbia, bambuco and mapale, each representing a unique mix of influences originating from indigenous, African and European culture. 
This group was formed over 10 years ago by founders who wished to enjoy their Mexican roots and traditions. This nostalgia provided the drive to create a group that allows them to maintain contact with their culture and demonstrate it to future generations. Currently, the group is made up of three generations of family members.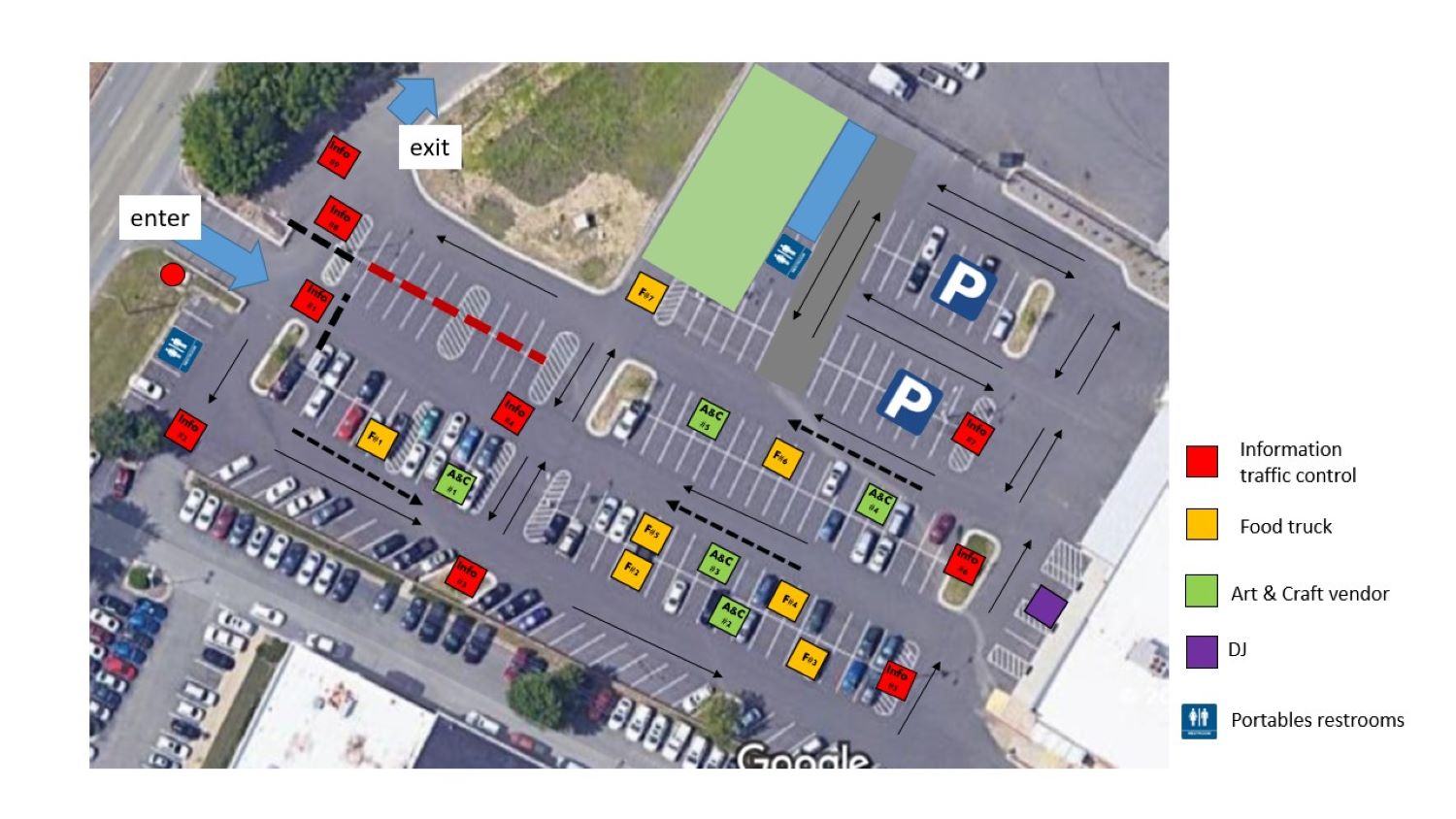 food vendors
Below find the origin and type of food that each food truck is selling. Refer to the map to find out where they'll be during the event. Save time by ordering your food before hand at streetfoodfinder.com (available for most vendors).

(F #1) L'Arepa 
Food from Venezuela, such as arepas, empanadas, and typical plates 
(F #2) Tacos Poblanos 
Traditional Mexican food, like tacos, quesadillas, and burritos  
(F #3) Empanadas RD 
Dominican empanadas, burgers, and traditional dishes  
(F #4) The Corner Venezuelan Food 
Venezuelan arepas and typical plates 
(F #5) El Jefecito  
Mexican food, such as tacos and burritos  
(F #6) Lobos Tacos  
Food from El Salvador and Mexico, such as pupusas and tacos 
(F #7) La Brisa 
Ice cream and popsicles  
arts & crafts vendors
Check the map to find the booth you're looking for.
(A&C #1) Alez.Creations 
My handicrafts are "objects that tell stories," little houses and rustic garden lamps with mountain airs from my little Colombian towns. 
(A&C #2) Amantolli Handcraft 
Clothes, bags, jewelry, shoes, accessories, decorations and items such as dog collars, all made by our Mexican artisans. 
(A&C #3) Arte y Són con Tania 
I am a visual artist and crafter. I sell paintings, prints, products from the paintings along with crafted products. All products are inspired by Puerto Rico.  
(A&C #4) Bolovan Genuine Mexican Boutique 
Embroidered dresses and blouses and accessories: earrings, necklaces, handmade bracelets and rings, hand embroidered bags.  
(A&C #5) Guatemalan Arts and Crafts 
Beaded jewelry, hair accessories, purses, keychains, and figurines made by Mayan artisans around Lake Atitlán in Guatemala.  
Y Sigue La Fiesta! 2020 Presented by:
In conjunction with:
Click The Icon Below To Learn More
This post is also available in:

Español (Spanish)