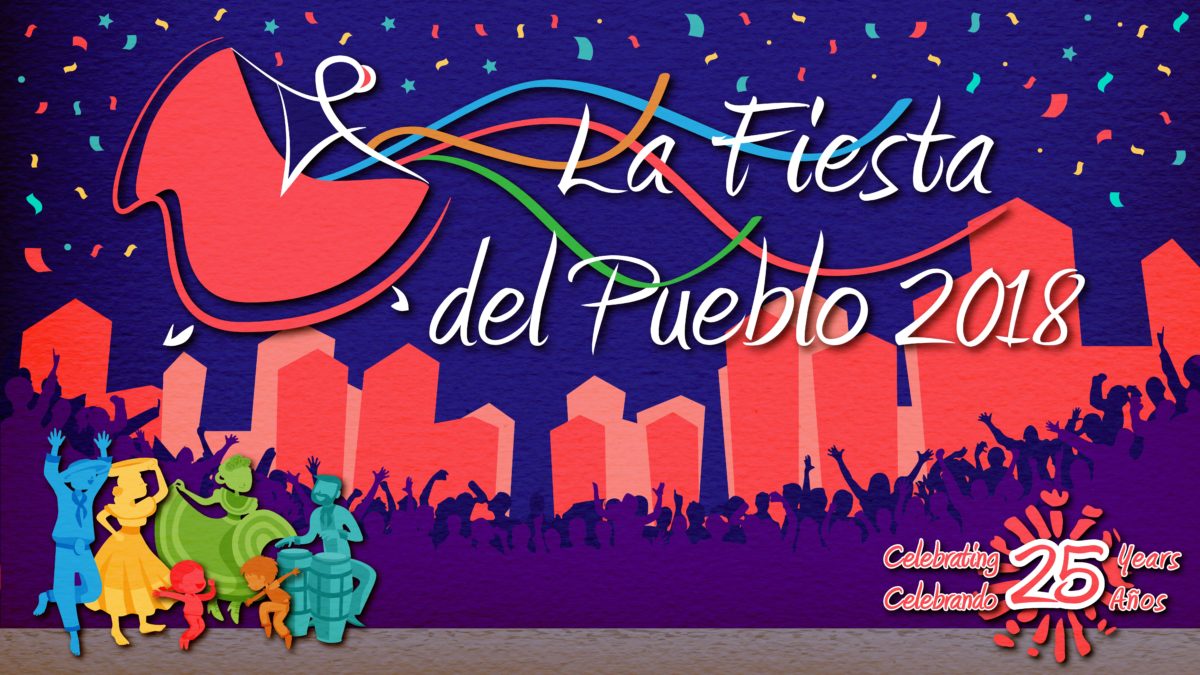 The Triangle's largest and longest running Latinx festival is back for its 25th anniversary on Sunday, September 23rd in downtown Raleigh!  Click below for more information on bands, food vendors, volunteer opportunities and more.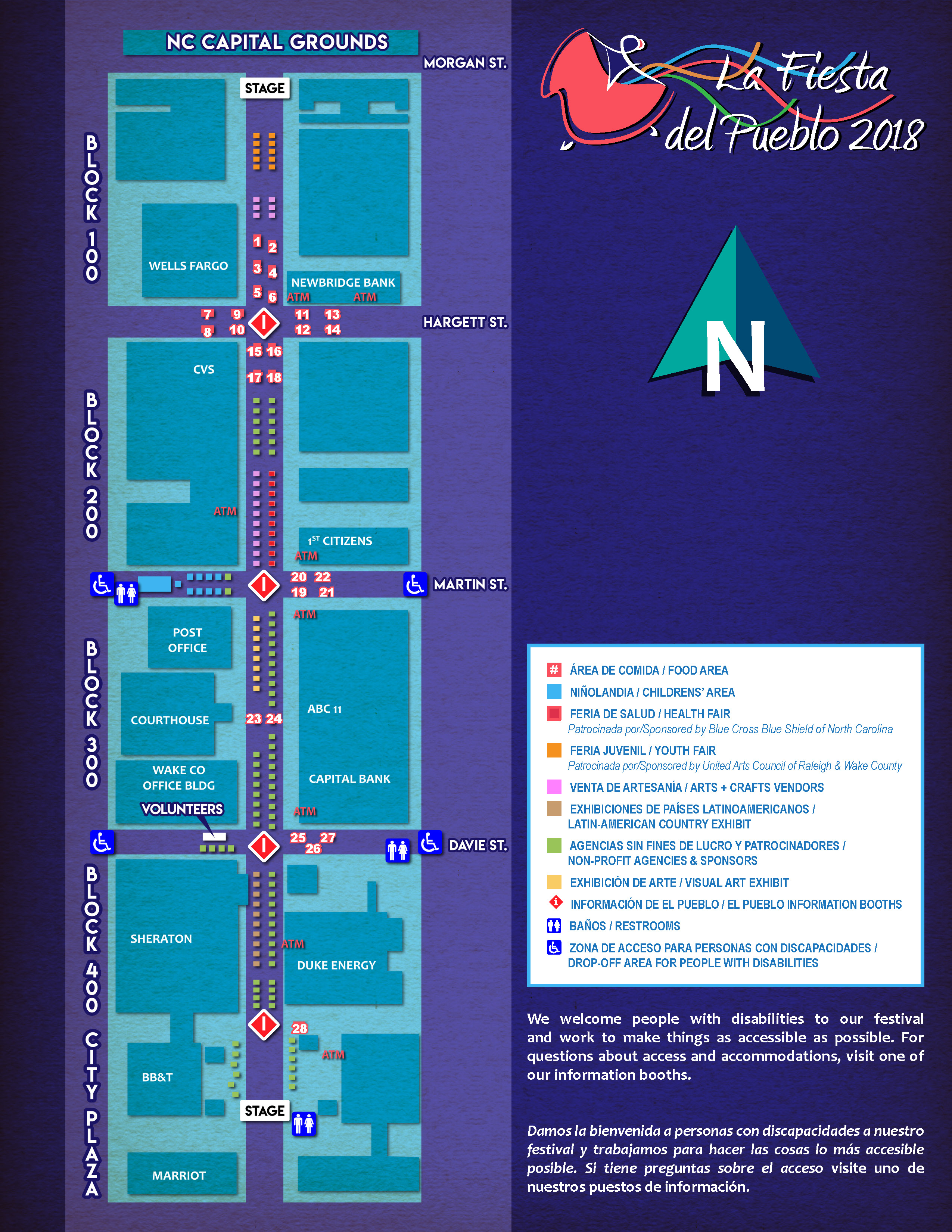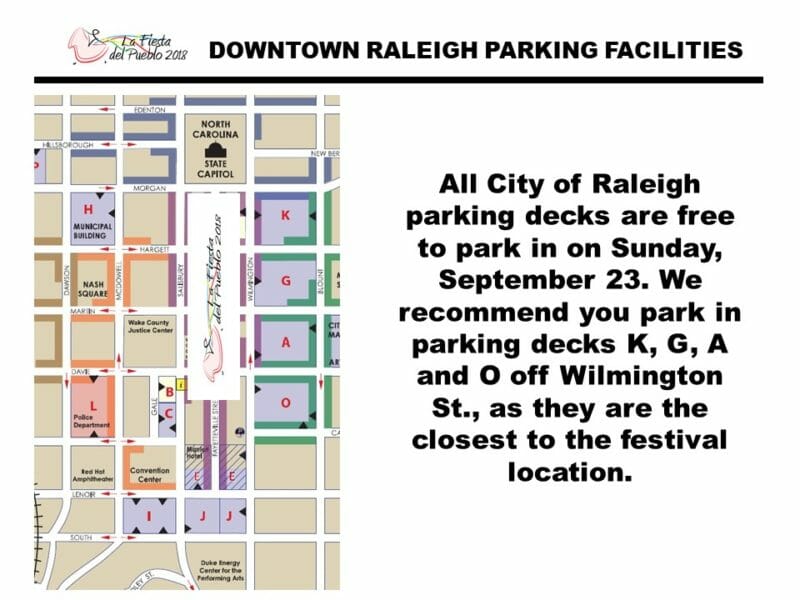 La Fiesta del Pueblo 2018 is almost here and we need volunteers like you!
Below is a description of the areas and shifts in which we will need help on Sunday, September 23rd.
Information Booth
Volunteers will welcome participants coming to the festival; provide information about the event, hand out Fiesta programs, conduct surveys and more! These volunteers will also support with making sure that festival attendees with different abilities are welcomed and brought to the festival from the designated drop-off areas.
Cultural Arts
Volunteers will help with the set-up of Arts area and/or support hosting the area!
Main stage
Volunteers will assist the main stage coordinators with logistics.
Voter Registration
You will receive a short training regarding best practices and staying nonpartisan upon arrival, you will be registering voters in various areas of festival, walking will be required, all the materials will be provided. Community Service hours will be provided if needed (Please notify prior).
El Pueblo Food Booth
Volunteers will help prep fruit cocktails, esquites (corn in a cup), and churros for sale to the public.
Volunteers who do 4 or more hours will receive a Fiesta 2018 t-shirt. Volunteers who do more than 6 hours will receive a food voucher, valued at $10.
Shift times:
Shift 1- 9:00 a 12:00pm
Shift 2- 12:00 a 3:00pm
Shift 3- 3:00 a 6:00pm
SIGN UP HERE! You must first choose your shift(s), then click "Sign Up!", provide your information, and then click "Submit". Thank you for volunteering for La Fiesta del Pueblo 2018!
Yarina Crafts
Embroidered handmade dresses, name bracelets, embroidered sweaters, Andes instruments, bags with native designs, and jewelry.
La Isla Bonita
"La Isla Bonita" represents a bit of many Latin American countries, selling items such as threaded bracelets, earrings, tagua rings, necklaces, hats with the colors of national flags, shirts with the flags of Latin American countries, backpacks, bags, and more.
Flaca y Loro
Mexican handcrafts such as Baja hoodies, fruit seeds bracelets, earrings, necklaces and headbands, handmade clay sugar skulls, Huichol t-shirts, handmade pocketbooks and messenger bags.
Lili's Gift Shop & Accessories
A new addition to La Fiesta del Pueblo, featuring uniquely designed purse and key holders, re-usable shopping bags, and travel shoulder bags inspired by Peruvian textiles.
Woodkeychains.com
Based out of Florida, Woodkeychains.com import handmade varnished keychains directly from Colombia, which serve as a useful everyday item or as a gift for loved ones.
Guatemalan Arts and Crafts
Beaded jewelry, keychains, hair accessories, figurines as well as placemats, table runners, and other fabrics all handmade by Mayan artisans in Guatemala.
¡Ay! Maria
Women's jewelry and accessories, Mexican clothing and accessories for children, men and women.
Inca Marka Ecuador
Ecuadorian ponchos, dresses, necklaces, instruments, purses, and more.
Isabel's Boutique
Peruvian jewelry, featuring sterling silver, gold & stainless steel pieces.
Comercial del Norte
Local vendor selling bracelets, necklaces, keychains, jerseys and caps.
The Best of the Best Piña Colada
Coma Rico
El Molcajete
Pupusas y Tacos Marina
Enrique's Place Latin Grill
Cuban Latin Grill
El Pueblo
Taste of Texas
Café Five Stars
Classic Ice Cream
CocoCrissi Tropical Icees
Piña Colada Perumex
La Isla Bonita Piña Colada
La Brisa
Lili's Kitchen
ACLU of North Carolina
Aliadas NC
American Chemical Society
CAM Raleigh
Carolina Friends School
Child Care Referral Central
Department of Insurance
Engineers Without Borders
Equality North Carolina Foundation
Exceptional Children's Assistance Center
GoTriangle
Haven House Services
Human Rights Campaign
Interact
Jenny Doyle, Esq. Immigration Counsel, LLC
MomsRising/ MamásConPoder.org
NARAL Pro-Choice NC
NC Department of Justice/ NC Attorney General's Office
NC DHHS DPH Children & Youth Branch
NC Emergency Management
NC Justice Center
NC Museum of Natural Sciences
NC State Hispanic Linguistics Program
NCSHP
North Carolina Democratic Party
Orange County Human Relations Commission
Planned Parenthood South Atlantic
Radio Trans Mundial
Raleigh PACT
Southeast Raleigh Promise
Triangle J Council of Governments
UNC Hispanic Dental Association
VENEZUELA PARA TI
Wake County Government – Community Services
Wake County Libertarian Party
Wake County Republican Party
Wake County SmartStart
Witness for Peace Southeast
Have any questions that aren't answered here?  Talk to us and we will do everything possible to accomodate festival guests.
La Fiesta del Pueblo is free and open to the public on Sunday, September 23rd from 12-6pm, with all of the events taking place on Fayetteville Street in downtown Raleigh, as well as on the intersecting streets.  Fayetteville Street is more than half a mile long, so there will be some distances to travel between sections of the festival.  Please be aware that Fayetteville Street and its sidewalks will be crowded during the event.
You can avoid some crowding by going up or down a block to Wilmington or Salisbury and then returning to Fayetteville via one of the Cros streets.  Do note that some streets have a slight uphill pitch to them, especially the side streets: Martin, Davie and Hargett.
Volunteers in official T-shirts will be around the fesival – please ask someone if you have a question!
ONCE YOU'VE ARRIVED!
A great place to start your Fiesta del Pueblo experience is at one of our Informational Booths, located at every intersection along Fayetteville Street (Morgan St, Hargett St, Martin St, Davie St.).  There you can find program booklets and ask friendly helpers any questions you might have about the festival!
ACCESSIBLE VIEWING AREAS 
A designated accessible viewing area will be available in front of the Main Stage for people who use mobility devices and their companions to help ensure that you can see what's happening on stage.  This area is intended for visitors who use wheelchairs, scooters or other mobility devices and their companions, as well as guests who have a disability that substantially limits their ability to stand and their companions.  Space is limited and is available on a first-come, first served basis.
SIGHTED GUIDES
Community members with vision impairment who want assistance with a sighted/human guide to enjoy La Fiesta del Pueblo should call Cecilia Saloni in advance at (919)835-1525, ext. 104,  or e-mail us at fiesta@elpueblo.org by Friday, Sept. 14 so we can help connect you with a guide who can be available when you want to attend the festival.
You can contact us closer to the event as well, and we will do our very best to meet your request, but the more notice you can provide, the more likely we can connect you to a guide or guides to help you when you want to be at the festival.
DROP OFF
Fayetteville Street and the first block of all side streets will be blocked off for the festival.  Wilmington and Salisbury Streets will remain open.  Designated drop-off areas are available on the east and west side of Fayetteville Street, at the Davie Street intersection and the Martin St intersection.  Check out this Map for a detailed layout of dropoff points for the festival.
PUBLIC TRANSPORTATION
The Moore Square Bus Station is location at 214 S Blount Street, 1.5 blocks from the heart of the La Fiesta del Pueblo footprint.
The R-Line, a free circulator shuttle, will also be available to help you get from your parking space to the festival footprint.
All R-Line vehicles and all GoRaleigh vehicles are equipped with ADA access by either a lift or a ramp.
PARKING
Street parking surrounding the footprint of La Fiesta del Pueblo is free all day on Sunday, so the payment required on weekdays does not apply.
City Parking decks are free all day on Sunday, please refer to this map for all City of Raleigh parking decks available during La Fiesta del Pueblo.
GETTING AROUND
All of the events taking place at la Fiesta del Pueblo are on the street level with the roads closed off to motor vehicles all day on Sunday.  While this means that some areas of the streets and sidewalks do get crowded, all street-level activities are physically accessibile.  Do note that some streets have a slight uphill pitch to them, especially the side streets: Martin, Davie and Hargett.
RESTROOMS
Street level accessible restrooms (portable toilets) will be located on two of side streets of the festival footprint: W Martin and E Davie street.
QUESTIONS OR COMMENTS?
La Fiesta del Pueblo's organizers work hard to make all of its programming accessible to everyone!  If you need assistance or have additional questions during La Fiesta del Pueblo, please visit one of our informational booths located at every intersection on Fayetteville Street.  If you have additional questions, comments, or would like to join the general conversation about accessibility in the arts, email Cecilia or call (919) 835-1525 ext. 104.
La Fiesta del Pueblo 2018 Sponsors
---
Proud to be part of the Raleigh MAIN Events Initiative.
This Project is funded in part by the City of Raleigh based on recommendations of the Raleigh Arts Commission.
El Pueblo is supported by United Arts Council of Raleigh and Wake County as well as the N.C. Arts Council, a division of the Department of Natural and Cultural Resources.